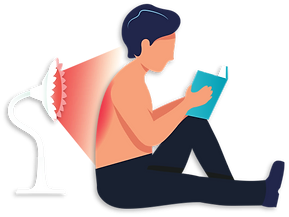 The Science of Sunflower
Sunflower uses the breakthrough technology of Photobiomodulation, or PBM, to improve human health.
Photobiomodulation, or PBM, is the science of using specific wavelengths of light to heal, enhance, and energize the cells in our bodies.
The Science of PBM
How it works?
History
The Science of PBM
The Science of PBM
Red Light Therapy is the use of red and near-infrared light to stimulate healing, relieve pain, & reduce inflammation. The primary chromophores have been identified as cytochrome c oxidase in mitochondria & calcium ion channels (possibly mediated by opsins during light absorption).
Secondary effects of photon absorption include increased ATP, a burst of reactive oxygen species, an increase in nitric oxide, and modulation of calcium levels. Tertiary effects include activation of a wide range of transcription factors leading to improved cell survival, increased proliferation and migration, and new protein synthesis. Light causes a pronounced biphasic dose response whereby low levels of light have stimulating effects, while high levels of light have inhibitory effects. It has been found that PBM can produce ROS in normal cells, but when used in oxidatively stressed cells or in animal models of disease, ROS levels are lowered. PBM is able to upregulate antioxidant defenses and reduce oxidative stress. It was shown that PBM can activate NF-kB in normal quiescent cells. However, in activated inflammatory cells, inflammatory markers were decreased. One of the most reproducible effects of PBM is an overall reduction in inflammation, which is particularly important for disorders of the joints, traumatic injuries, lung disorders, and the brain. PBM has been shown to reduce markers of M1 phenotype in activated macrophages. Many reports have shown reductions in reactive nitrogen species and prostaglandins in various animal models. PBM can reduce inflammation in the brain, abdominal fat, wounds, lungs, and spinal cord.
How it works?
How it works?
Photobiomodulation (PBM), often called Red Light Therapy or Low Level Laser Therapy, describes the therapeutic use of red & near-infrared light to stimulate healing, relieve pain and inflammation, & improve overall wellness.
When delivered at the correct frequency and location for an optimal duration of time, infrared light produces a photochemical reaction that increases ATP and improves cellular function and health. This process is crucial for the health and wellness of the human body.
History
BCE
The Ancients
From ancient times to the modern era, humans have symbolically associated "light" with "healing." Ancient Chinese medicine emphasizes the importance of light for health and how this invisible flow of energy powers the body. In ancient Egyptian mythology, the goddess of healing, Sekhmet, is the daughter of the sun god, Ra. Similarly, in Greco-Roman culture, Apollo is both the god of healing and the god of light. In fact, the son of Apollo, Asclepius, is the Greek god of treatment. Even today, the "Rod of Asclepius" is a universally recognized symbol of medicine.
These connections do not merely exist in mythology and literature, however; they are born of the scientific observation that light can heal the body. If you were to visit a Roman hospital 2,000 years ago, you'd be met with an intriguing sight: sunlight, filtered through huge panels of red glass, streaming into hospitals to heal patients suffering from "diseases of withering." The ancients called these specialized rooms Solariums.
Today we recognize Solariums as civilization's first implementation of Photomedicine.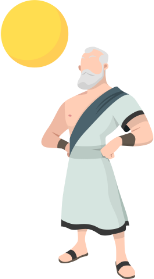 1896
Niels Ryberg Finsen
In 1896, Niels Finsen cured Smallpox using light. Smallpox. A highly contagious viral-respiratory disease with no cure, according to the World Health Organization.
He continued to demonstrate groundbreaking healing effects of phototherapy, proving that light therapy could be used to cure Smallpox, Lupus Vulgaris, & hundreds of other "diseases of civilization." His work rattled the medical world, rightfully earning him the Nobel Prize in Medicine in 1903 for "opening a new avenue of medical science." Tragically, Finsen died shortly after winning the Nobel Prize & his crucial discovery of light as a medicine fell into darkness. In the last few years of his life, Finsen was committed to making light therapy accessible to every human being, not just for curing diseases, but also as a requirement for daily health. He writes: "I believe implicitly that in the future use will be made of this new therapeutic agent [Light], & the proof experiment once made, it will be easy to carry it out practically under the form of Light Baths; and lastly, to determine whether they are to be blue, violet, or red, the variations in their strength & duration, & whether natural or artificial." – Finsen, Phototherapy, 1896.
Now, 125 years later, we are picking up where the Father of Photomedicine left off: making light bathing accessible to every human being in the world.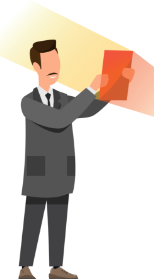 1980
NASA & Phototherapy
The National Aeronautics & Space Administration, or NASA, began experimenting with light-emitting diodes (LEDs) to grow plants in space. To the delight of the astronauts, they found that plants readily grew with the energy from these small "artificial suns," even in space.
But what was even more remarkable was the effects LEDs had upon the astronauts themselves. They reported astonishing improvements to a number of health challenges that commonly plague humans in a zero-gravity environment: LED exposure improved bone mass, slowed muscular atrophy, & helped wounds to heal. A press release followed: "NASA scientists have found that cells exposed to near-infrared light from LEDs, which is energy just outside the visible range, grow 150 to 200 percent faster than cells not stimulated by such light."
This rediscovery ushered in the modern era of photomedicine. At this stage of technological development, however, LEDs were extremely expensive & inefficient. As a result, photomedicine was reserved for hospitals, medical practices, & research institutions.
It would take several more decades before LED light therapy would be available to the masses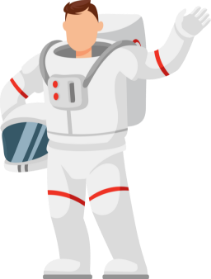 2010
Phototherapy with LEDs
In the last decades, LED technology has progressed so rapidly that phototherapy is now accessible to individuals, not just hospitals.
Just like the exponential growth of computer processing power, LEDs become ~200x better every decade (see Haitz Law). A device that would cost $20,000 in 2000, would cost just $100 for the same overall performance just 10 years later. This incredible advancement in light efficiency has sent shockwaves across the world.
We have seen light therapy become commonplace in hospitals and medical practitioners' offices all across the world. Beginning in 2010, red light devices, infrared saunas, & laser pain relief have become key parts of the modern doctor's toolbox.
Yet, even with the overwhelming positive effects of light therapy, its practice has been relegated primarily to medical professionals. & expensive individual treatments.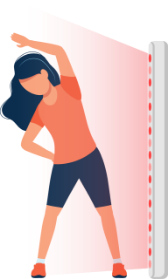 2022
Smart Light Therapy
Today we are living in the most exciting period of the Photomedical Revolution.
Photobiomodulation is now controlled by software to perfectly tune the output to emulate clinically-tested outputs. We built Sunflower to connect you directly to the vast scientific insights to continuously improve PBM.
Light is a safe and effective treatment for hundreds of diseases, because light is a necessary requirement for human health, like food, water, and oxygen.
Now, 125 years after the world was blessed with Finsen's brilliance, photobiomodulation is becoming mainstream.
Today, our team at JustLight is focused on making PBM accessible. We work hard every day to build the vision of Niels Finsen, a Light Bath in every home. Because until we do, there is vast preventable suffering in our world.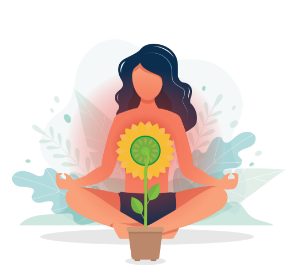 Future
Universal Access
By the year 2050, it is estimated that 80% of US households will have adopted some form of photobiomodulation and over 50% will be using some form of germicidal (blue) light.
At JustLight, we envision a world in which every person has universal access to photobiomodulation. Until that day comes, there is mass, preventable suffering in our society.
We are on a mission to accelerate this revolution in health care by bringing PBM to as many people as possible, as soon as possible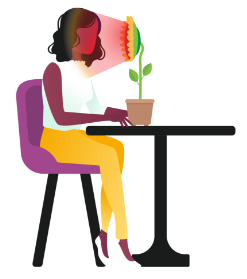 Benefits of Red Light Therapy

Pain Relief
Red and near-infrared light relieve chronic & acute pain through two independent mechanisms. The first is by increasing local blood circulation to reduce inflammation, which often causes chronic pain. The second mechanism is healing damaged tissue more quickly, which directly addresses the injury that is the root cause of pain and inflammation.

Skin Health
Red and near-infrared light are commonly used in dermatology and medical spas to address a wide range of skin concerns from acne to wrinkle reduction. Additionally, red and near-infrared light can penetrate into deeper layers of the skin to promote faster healing, increase the removal of waste products that cause acne, and boost collagen production.

Hair Health
One of the first findings in the field of PBM was enhanced hair growth. Today, many hair growth treatments are based in laser therapy. With LED PBM, light treatments for hair growth can now be done at home. Red and near-infrared light penetrate into cells and are absorbed by the mitochondria, or the cell structure responsible for producing energy. By increasing cellular energy within the hair follicle, PBM allows the hair follicles to perform optimally so they can generate new hair more quickly, even after significant hair loss.

Faster Healing
Photobiomodulation works by boosting cellular energy to allow the cell, and thus the whole body, to function more efficiently. Our bodies are more than capable of healing wounds and injuries without the help of a red light therapy device; however, our cells are often not functioning at optimal capacity. Therefore, by giving cells light that can be converted into energy, PBM provides the optimal conditions to heal wounds as quickly as the body is able.

Cognitive Function
PBM enhances cellular efficiency; however, one of the main obstacles in PBM is reaching tissue that is very deep, such as bone or potentially organs on the other side of bone. Many PBM products today are not equipped with wavelengths of light with this capacity, around and above 1000nm. With longer wavelengths in this range, PBM can benefit cells in the brain through the scalp. This increases blood flow to the brain and the efficiency of the brain cells to improve cognitive function, including improved attention, memory, and more!

Mental Health
Generally, our mental health suffers when our brain and body lack enough of the nutrients and energy they need. One of these daily health requirements is sunlight. As a result, "chronic light deprivation" is a major health concern in industrialized nations today. Photobiomodulation acts as a sunlight replacement therapy that delivers the safe wavelengths from the sun (red and near-infrared), without the damaging wavelengths (UV light). Therefore, red light therapy can improve mental health by replacing light that we miss out on during the daytime.

Sleep Optimization
Over one third of the American population are sleep deprived, and the brain is responsible for controlling the switch from wake to sleep and sleep quality. Luckily, PBM has been clinically shown to improve sleep and reduce the negative effects of sleep loss, especially for cognitive performance. By helping our brain cells work more efficiently, PBM administered before bed helps the brain work more efficiently to coordinate sleep, minimize sleep problems, and sleep loss.

Immune Support
There is robust evidence PBM can improve the resiliency of cells against health concerns, including illnesses like COVID-19. This is due to a few reasons: 1) PBM directly affects the number of immunity factors in the blood, including inflammatory cytokines, and 2) PBM allows cells to recover faster after stress. Therefore, PBM has been found to help protect against illness, and reduce the progression and duration of illness.